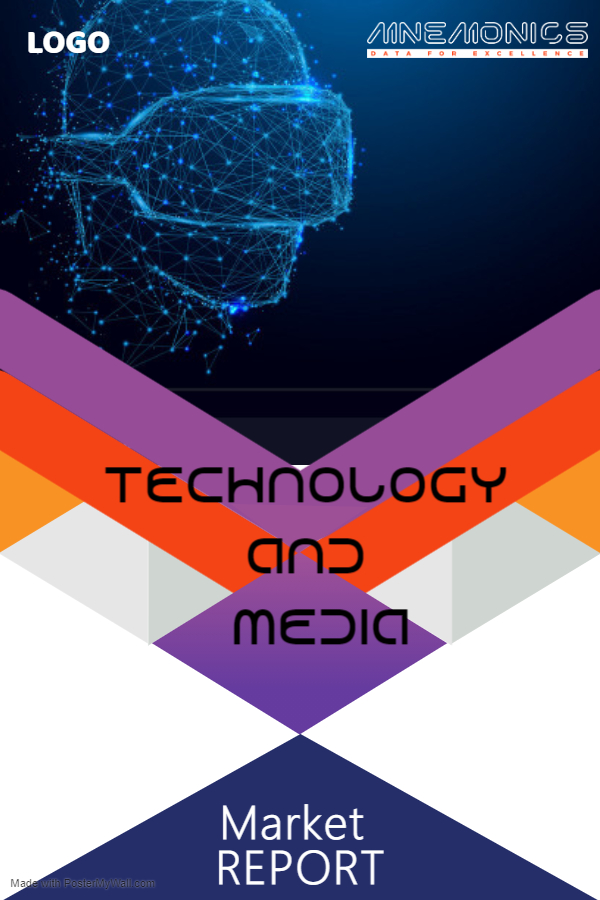 Metaverse Market Research Report: Information By Component (Hardware and Software), Platform (Desktop/ Laptops, Mobiles, and Wearables), Technology (Blockchain, VR & AR, Mixed Reality, and Others), Application (Gaming, Online Shopping, Content Creation, Social Media, and Others), End Users (Consumer and Enterprises [BFSI, Retail, Media & Entertainment, Education, Real Estate, Aerospace & Defense, Healthcare, Engineering, and Others)])
Date: Jun-2022 | GLOBAL | Publisher: Mnemonics Research
The global metaverse market size was estimated at USD 38.85 billion in 2021. It is expected to expand at a compound annual growth rate (CAGR) of 39.4% from 2022 to 2030. Major factors expected to drive the revenue growth include a growing focus on integrating digital and physical worlds using the Internet, increasing momentum and popularity of Mixed Reality (MR), Augmented Reality (AR), and Virtual Reality (VR), and the outbreak of COVID-19, as well as the situation's subsequent developments and outcomes.

The metaverse has lately been a popular issue of discussion, with both Facebook and Microsoft claiming ownership. But what exactly is the metaverse? And when will it arrive? The term "metaverse" was coined by author Neal Stephenson in his 1992 science fiction novel "Snow Crash," in which he imagined lifelike avatars meeting in realistic 3D buildings and other virtual reality environments. Since then, significant advancements have paved the way for a true metaverse, an online virtual world that integrates augmented reality, virtual reality, 3D holographic avatars, video, and other forms of communication. As the metaverse expands, it will provide consumers with a hyper-real alternate universe in which to coexist. Metaverse inklings may already be seen in online gaming worlds such as Fortnite, Minecraft, and Roblox. And the corporations behind those games want to be a part of the metaverse's progress. It is unknown whether there will be one metaverse or many independent metaverses, but one constant appears to be: the metaverse will be a virtual or augmented reality-enhanced next-generation version of the internet.

This study on the global Metaverse market provides detailed information on industry trends, market dynamics, market size, competitive landscape, and growth opportunities. This research report categorizes the global Metaverse market by component, platform, technology, application, end-user, and region/country. The regions included in the study are North America, Europe, Asia-Pacific, South America, and the Middle East & Africa. In terms of region, North America is anticipated to dominate the Metaverse market during the study period.

Metaverse Market Dynamics:
Drivers & Opportunity: Growing demand for metaverse to purchase digital assets using cryptocurrencies
The metaverse's currency is a cryptocurrency and every metaverse has its collection of coins. They're used to paying for everything from NFTs to virtual real estate to avatar shoes. Cryptocurrencies are used to connect the physical and virtual worlds. They allow us to calculate the worth of digital assets in the government-issued currency as well as the returns on those assets over time. The use of the metaverse to buy digital assets using cryptocurrency is gaining traction around the world.
Individuals now communicate with one another digitally via websites, messaging apps, and social media platforms such as Facebook. The metaverse is the emergence of fresh online settings in which people's interactions are highly multidimensional, and they can participate more meaningfully with digital content rather than simply reading information. Because of the accessibility of crypto on exchanges all around the world, investors can make money by selling metaverse coins and NFTs directly to purchasers.
Expanded opportunities for Business-to-Consumer (B2C) and Business-to-Business (B2B) enterprises
One of the metaverse's promising prospects is that it is vastly increasing access to the marketplace for consumers in emerging and frontier economies. The Internet has already opened up access to previously unavailable goods and services. Workers from low-income countries, for example, may now be able to find work in western corporations without emigrating. Virtual reality environments will help enhance educational options, as they are a low-cost and effective way to learn.

There will need to be clear governance as a result of these developments. Business-to-business (B2B) marketing includes trade exhibitions, product demos, client meetings, customer service, and commercials. The metaverse now has the power to drastically modify each of these things. Because many B2B products are commodities, excellent customer service can make all the difference. The Metaverse has an interesting side effect of blurring the distinctions between B2B and B2C. Companies can use this to grow their traditional consumer bases while avoiding corporate traditions.

Challenge:
The threat of cyber-based attacks targeting the metaverse is a primary concern
Even if the final implementation of the metaverse differs from today's vision, technologies such as Virtual Reality (VR), Augmented Reality (AR), the Internet of Things (IoT), and cryptocurrencies will certainly be used. These technologies have the potential to merge and synchronize the physical and digital worlds. They will, however, provide new opportunities for cybercriminals to attack businesses and individuals. Concerns about data security and privacy in metaverse environments, issues about user identity, and challenges of persuading users to use payment services in these settings are some key factors that are expected to stifle global metaverse market revenue growth to some extent during the forecast period.

End-use Insights
Due to the rising gaming industry globally, the media and entertainment category is predicted to account for the largest revenue share of 31.08% over the forecast period. Businesses are increasingly focusing on organizing virtual music concerts, and the adoption of this concept by a growing number of businesses is likely to boost this segment's revenue growth. For instance, Meta Platform, Inc Meta Platform, Inc unveiled a lineup of major virtual reality concerts that took place completely on its Horizon Venues metaverse. The celebrity singers and performers included Young Thug, DJ David Guetta, and The Chainsmokers at the New Year's Eve event. Warner Music Group has announced the launch of the virtual music theme park through The Sandbox platform. Musical experiences and concerts from the music company's star-studded roster of musicians, including Bruno Mars, Ed Sheeran, Dua Lipa, and Cardi B, will be featured in the virtual theme park. Metaverse offers musicians enhanced flexibility to experiment and engage with audiences electronically. Other musicians and media content firms collaborating with musicians are more likely to experiment with virtual reality and broadcast content online instead of attending live concerts because of the endless possibilities. For instance, games such as Fortnite hosted a metaverse event where musicians and music bands performed live in April 2020. It was the platform's largest in-game concert. Based on end-use, the global market for metaverse is divided into Banking, Financial Services, and Insurance (BFSI), retail, media and entertainment, education, aerospace and defense, automotive, and others.

Metaverse Market Segmentation
The global Metaverse market has been segmented based on component, platform, technology, application, and end user.
Based on the component, the metaverse market has been segmented into hardware and software.
Based on the platform, the metaverse market has been classified into desktop/laptops, mobile, and wearables.
Based on the technology, the metaverse market has been segmented into the blockchain, VR & AR, mixed reality, and others.
Based on the application, the metaverse market has been segmented into gaming, online shopping, content creation, social media, and others.
Based on the end user, the metaverse market has been categorized into consumers and enterprises. The enterprise's segment is further broken down into BFSI, retail, media & entertainment, education, real estate, aerospace & defense, healthcare, engineering, and others.
Chapter 1. Methodology and Scope
                    1.1. Market Segmentation & Scope
                    1.2. Market Definitions
                    1.3. Information Procurement
                         1.3.1. Purchased Database
                         1.3.2. GVR's Internal Database
                         1.3.3. Secondary Sources & Third-Party Perspectives
                         1.3.4. Primary Research
                    1.4. Information Analysis
                         1.4.1. Data Analysis Models
                    1.5. Market Formulation & Data Visualization
                    1.6. Data Validation & Publishing
Chapter 2. Executive Summary
                    2.1. Market Outlook
                    2.2. Segmental Outlook
Chapter 3. Market Variable, Trends & Scope
                    3.1. Metaverse Market Dynamics
                         3.1.1. Market Driver Analysis
                         3.1.2. Market Opportunity Analysis
                         3.1.3. Market Challenge Analysis
                    3.2. Penetration & Growth Prospect Mapping
                    3.3. Metaverse Market - Value Chain Analysis
                    3.4. Metaverse Market Industry Analysis - Porter's
                         3.4.1. Supplier Power
                         3.4.2. Buyer Power
                         3.4.3. Substitution Threat
                         3.4.4. Threat of New Entrants
                         3.4.5. Competitive Rivalry
                    3.5. Metaverse Market Industry Analysis - PEST
                         3.5.1. Political & Legal Landscape
                         3.5.2. Environmental Landscape
                         3.5.3. Social Landscape
                         3.5.4. Technology Landscape
                    3.6. Major Deals & Strategic Alliances Analysis
                         3.6.1. Joint Ventures
                         3.6.2. Mergers & Acquisitions
                         3.6.3. Licensing & Partnership
                         3.6.4. Technology Collaborations
                    3.7. Key Market Trends
Chapter 4. Metaverse Market: Product Estimates & Trend Analysis
                    4.1. Metaverse Market: Product Analysis
                         4.1.1. Hardware
                              4.1.1.1. Displays
                              4.1.1.2. eXtended reality (XR) hardware
                                   4.1.1.2.1. Haptic Sensors & devices
                                   4.1.1.2.2. Omni Treadmills
                                   4.1.1.2.3. Smart Glasses
                              4.1.1.3. AR/VR Headsets
                         4.1.2. Software
                              4.1.2.1. Asset Creation Tool
                              4.1.2.2. Programming Engines
                         4.1.3. Services
Chapter 5. Metaverse Market: Platform Estimates & Trend Analysis
                    5.1. Metaverse Market: Platform Analysis
                         5.1.1. Desktop
                         5.1.2. Mobile
                         5.1.3. Headsets
Chapter 6. Metaverse Market: Technology Estimates & Trend Analysis
                    6.1. Metaverse Market: Technology Analysis
                         6.1.1. Blockchain
                         6.1.2. Virtual Reality (VR) & Augmented Reality (AR)
                         6.1.3. Mixed Reality (MR)
                         6.1.4. Others
Chapter 7. Metaverse Market: Offering Estimates & Trend Analysis
                    7.1. Metaverse Market: Offering Analysis
                         7.1.1. Virtual Platforms
                         7.1.2. Asset Marketplaces
                         7.1.3. Avatars
                         7.1.4. Financial Services
Chapter 8. Metaverse Market: Application Estimates & Trend Analysis
                    8.1. Metaverse Market: Application Analysis
                         8.1.1. Gaming
                         8.1.2. Online Shopping
                         8.1.3. Content Creation & Social Media
                         8.1.4. Events & Conference
                         8.1.5. Digital Marketing (Advertising)
                         8.1.6. Testing and Inspection
                         8.1.7. Others
Chapter 9. Metaverse Market: End-Use Estimates & Trend Analysis
                    9.1. Metaverse Market: End-Use Analysis
                         9.1.1. BFSI
                         9.1.2. Retail
                         9.1.3. Media & Entertainment
                         9.1.4. Education
                         9.1.5. Aerospace and Defense
                         9.1.6. Automotive
                         9.1.7. Others
Chapter 10. Metaverse Market: Regional Estimates & Trend Analysis
                    10.1. Metaverse Market Share By Region, 2021 & 2030
                    10.2. North America
                         10.2.1. U.S.
                         10.2.2. Canada
                         10.2.3. Mexico
                    10.3. Europe
                         10.3.1. U.K.
                         10.3.2. Germany
                         10.3.3. France
                    10.4. Asia Pacific
                         10.4.1. China
                         10.4.2. India
                         10.4.3. Japan
                         10.4.4. South Korea
                    10.5. South America
                         10.5.1. Brazil
                         10.5.2. Mexico
                    10.6. Middle East & Africa
Chapter 11. Competitive Analysis
                    11.1. Recent Developments & Impact Analysis, by Key Market Participants
                    11.2. Company/ Competition Categorization (Key Innovators, Market Leaders, Emerging Players)
                    11.3. Vendor Landscape
                         11.3.1. Key Company Analysis, 2021
                    11.4. Company Analysis
                         11.4.1. Company Market Position Analysis
                         11.4.2. Competitive Dashboard Analysis
Chapter 12. Competitive Landscape
                    12.1. Meta Platforms, Inc
                         12.1.1. Company Overview
                         12.1.2. Financial Performance
                         12.1.3. Product Benchmarking
                         12.1.4. Recent Developments
                    12.2. Tencent Holdings Ltd.
                         12.2.1. Company Overview
                         12.2.2. Financial Performance
                         12.2.3. Product Benchmarking
                         12.2.4. Recent Developments
                    12.3. ByteDance, Ltd.
                         12.3.1. Company Overview
                         12.3.2. Financial Performance
                         12.3.3. Product Benchmarking
                         12.3.4. Recent Developments
                    12.4. NetEase, Inc
                         12.4.1. Company Overview
                         12.4.2. Financial Performance
                         12.4.3. Product Benchmarking
                         12.4.4. Recent Developments
                    12.5. Nvidia Corporation
                         12.5.1. Company Overview
                         12.5.2. Financial Performance
                         12.5.3. Product Benchmarking
                         12.5.4. Recent Developments
                    12.6. Epic Games, Inc
                         12.6.1. Company Overview
                         12.6.2. Financial Performance
                         12.6.3. Product Benchmarking
                         12.6.4. Recent Developments
                    12.7. Roblox Corporation
                         12.7.1. Company Overview
                         12.7.2. Financial Performance
                         12.7.3. Product Benchmarking
                         12.7.4. Recent Developments
                    12.8. Unity Technologies, Inc.
                         12.8.1. Company Overview
                         12.8.2. Financial Performance
                         12.8.3. Product Benchmarking
                         12.8.4. Recent Developments
                    12.9. Lilith Games
                         12.9.1. Company Overview
                         12.9.2. Financial Performance
                         12.9.3. Product Benchmarking
                         12.9.4. Recent Developments
                    12.10. Nextech AR Solution Corp.
                         12.10.1. Company Overview
                         12.10.2. Financial Performance
                         12.10.3. Product Benchmarking
                         12.10.4. Recent Developments
                    12.11. The Sandbox
                         12.11.1. Company Overview
                         12.11.2. Financial Performance
                         12.11.3. Product Benchmarking
                         12.11.4. Recent Developments
                    12.12. Active Theory
                         12.12.1. Company Overview
                         12.12.2. Financial Performance
                         12.12.3. Product Benchmarking
                         12.12.4. Recent Developments
                    12.13. Decentraland
                         12.13.1. Company Overview
                         12.13.2. Financial Performance
                         12.13.3. Product Benchmarking
                         12.13.4. Recent Developments
                    12.14. Microsoft Corporation
                         12.14.1. Company Overview
                         12.14.2. Financial Performance
                         12.14.3. Product Benchmarking
                         12.14.4. Recent Developments