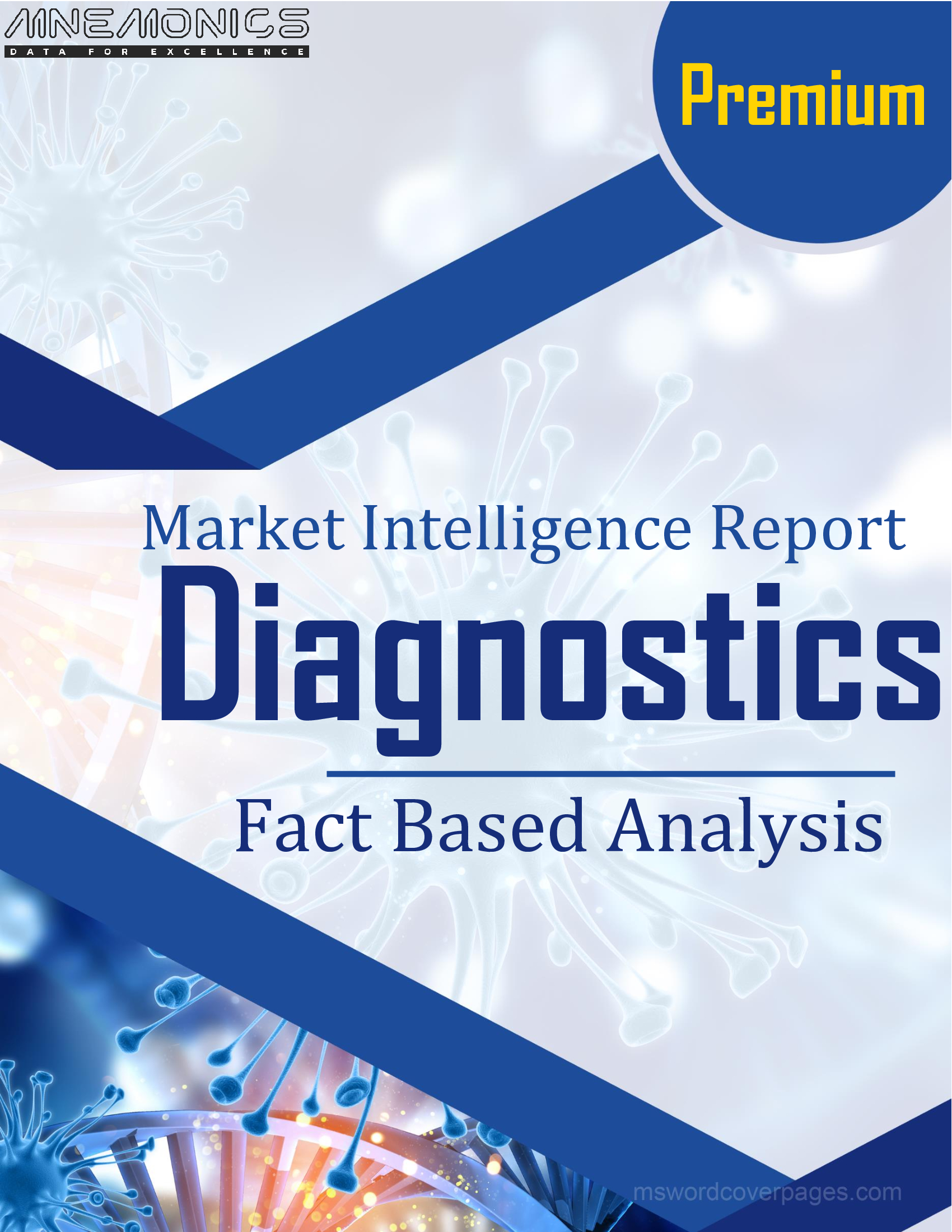 Global IVD Market size, share, Growth & Trends Analysis Report by Type (Introduction, Instruments, Software and Services, Reagents & Kits) by Technique (Immunodiagnostics, Blood testing, Molecular diagnostics, Clinical chemistry, Other IVD techniques, and Tissue diagnostics) by Users (Hospitals, Laboratories and Others) and Region-Market Intelligence & Forecast, 2019-2026
Date: Dec-2019 | Id: MACRC-1186 | Geographical Scope: Global | Publisher: MACRC
Global IVD Market size, share, Growth & Trends Analysis Report by Type (Introduction, Instruments, Software and Services, Reagents & Kits) by Technique (Immunodiagnostics, Blood testing, Molecular diagnostics, Clinical chemistry, Other IVD techniques, and Tissue diagnostics) by Users (Hospitals, Laboratories and Others) and Region-Market Intelligence & Forecast, 2019-2026
"Global IVD Market was valued at USD 59.20 Billion in the year 2017 and is expected to reach approximately USD 90.28 Billion by 2026, at CAGR 4.8% from 2019 to 2026." 
Introduction
In vitro diagnostic (IVD) is a medical device that combined with reagent, software, instrument, apparatus, equipment or system, calibrator, control material, kit, specimen receptacle. It can be used alone or with combination of other diagnostic goods for in vitro use. Manufacturer intended to use to vitro for the examination of specimens which is derived from the human body for the purpose of giving information about a physiological or pathological state. It determines a congenital abnormality, safety and compatibility with a potential recipient.
The IVD market is segmented on the basis of type, technique, users and by region. By type, the global IVD market divided into introduction, instruments, software and services, reagents & kits. Among types, reagents segment has generated largest market share in case of revenue owing to its high usage rates. On the basis of technique, the market is divided into immunodiagnostics, blood testing, molecular diagnostics, clinical chemistry, other IVD techniques, and tissue diagnostics.  The molecular diagnostics segment is expected to grow at faster rate between 2018 and 2023. Growth in this market is majorly driven by the rising prevalence of infectious diseases, cancer, and various genetic disorders; growing demand for blood screening; and increasing application of molecular diagnostic technologies in pharmacogenetics and point-of-care testing.
Users of IVD are hospitals, point of care testing, academic and medical schools, and others. 
Market Dynamics
Technological advancement in molecular diagnostic is the major factor to drive the growth of market. However, lack of regulatory standard and lack of technical expertise will hinder the IVD market growth. Nonetheless, rising importance of diagnostics in improving healthcare quality and development of emerging markets for point of care testing will proliferate the demand of molecular diagnostic market over the forecast period. Moreover, several actions taken for Technique development by key market players will fuel the demand of this market. 

Geographical Outlook
The global IVD market has been segmented into five major regions: North America, Europe, Asia Pacific, Latin America, and Middle East & Africa.  North America is expected to hold largest market share due rising funding for healthcare, increasing health awareness among patients. In addition, R&D investment by key market players for new products launch is gaining traction to IVD market in North America and Europe regions. Asia Pacific is projected to grow at highest CAGR due to rising need of technologically advanced diagnostics systems and government efforts to increase awareness for early detection of diseases. Moreover, increasing number of hospitals, regular health check-ups, continuously rising healthcare expenditure, and clinical diagnostic laboratories in an emerging countries will propel the demand of this market. In addition, strategic collaboration with highly technological based companies and tapping emerging countries by major operating players will surge the demand of global IVD market in coming years.

 
Market Segmentation
On the Basis of Type
• Introduction                  
• Instruments                  
• Software and Services               
• Reagents & Kits
On the Basis of Technique
• Blood testing  
• Molecular diagnostics
• Tissue diagnostics
• Clinical chemistry 
• Other IVD techniques
On the Basis of Users
• Hospitals                      
• Point Of Care Testing
•  Academic and Medical Schools
•  Others


Key Players
Some of the key players operating in the global IVD market are Abbott laboratories, F. Hoffmann-La Roche AG, Beckman Coulter Inc, Grifols SA, Biomérieux SA, Johnson & Johnson, Becton, Dickinson and Company, Danaher Corporation (Beckman Coulter) Lab 21, Qiagen Netherlands, Siemens AG, and others   
                  
Key questions addresses by the report:
a) What are the emerging trends?
b) What are the global opportunities in the IVD market?
c) Who are the major market players in the IVD market?
d) How competitive is the market?
e) What are the growth trends and the largest revenue-generating region for IVD market?
f) Which geographical region is holding major potential for new entrants?


Chapter 1. Methodology and Scope
                    1.1. Research Methodology
                    1.2. Research Scope & Assumptions
                    1.3. List of Data Sources
                    1.4. List of Abbreviations
Chapter 2. Executive Summary
                    2.1. IVD Market - Industry Snapshot 
                    2.2. IVD Market
Chapter 3. Customer Care BPO Industry Outlook
                    3.1. Market Segmentation
                    3.2. Value Chain Analysis
                    3.3. Market Dynamics
                         3.3.1. Market driver analysis
                         3.3.2. Market restraint analysis
                         3.3.3. Market opportunity analysis
                    3.4. Penetration & Growth Prospects Mapping
                    3.5. Industry Analysis - Porter's Five Forces Analysis
                    3.6. PESTEL Analysis
Chapter 4. IVD Market: By Type (USD Billion)
                    4.1. Introduction
                    4.2. Instruments   
                    4.3. Software and Services
                    4.4. Reagents & Kits                   
Chapter 5. IVD Market: By Technique (USD Billion)
                    5.1. Immunodiagnostics
                     5.2. Blood Testing
                    5.3. Molecular diagnostics
                    5.4. Clinical chemistry                
                     5.5. DNA Sequencing     
                     5.6. Other IVD techniques
                    5.7 Tissue diagnostics
 Chapter 6. IVD Market: By Users (USD Billion)
6.1 Hospitals
6.2 Point Of Care Testing
6.3 Academic and Medical Schools
6.4 Others
Chapter 7. IVD Market: Regional Outlook
                    7.1. IVD Market Estimates & Forecasts 
                    7.2. North America
                         7.2.1. Market estimates and forecasts
                         7.2.2. Market estimates and forecasts, By Type
                         7.2.3. Market estimates and forecasts, By Technique
                        7.2.4. Market estimates and forecasts, By Users
                         7.2.4. U.S.
                              7.2.4.1. Market estimates and forecasts
                              7.2.4.2. Market estimates and forecasts, By Type
                              7.2.4.3. Market estimates and forecasts, By Technique
                               7.2.4.4 Market estimates and forecasts, By Users
                         7.2.5. Canada
                              7.2.5.1. Market estimates and forecasts
                              7.2.5.2. Market estimates and forecasts, By Type
                              7.2.5.3. Market estimates and forecasts, By Technique
                               7.2.5.4 Market estimates and forecasts, By Users
                    7.3. Europe
                         7.3.1. Market estimates and forecasts
                         7.3.2. Market estimates and forecasts, By Type
                         7.3.3. Market estimates and forecasts, By Technique
                         7.3.4 Market estimates and forecasts, By Users
                         7.3.4. U.K.
                              7.3.4.1. Market estimates and forecasts
                              7.3.4.2. Market estimates and forecasts, By Type
                              7.3.4.3. Market estimates and forecasts, By Technique
                             7.3.4.4 Market estimates and forecasts, By Users
                         7.3.5. Germany
                              7.3.5.1. Market estimates and forecasts
                              7.3.5.2. Market estimates and forecasts, By Type
                              7.3.5.3. Market estimates and forecasts, By Technique
                             7.3.5.4 Market estimates and forecasts, By Users
                         7.3.6. France
                              7.3.6.1. Market estimates and forecasts
                              7.3.6.2. Market estimates and forecasts, By Type
                              7.3.6.3. Market estimates and forecasts, By Technique
                             7.3.6.4 Market estimates and forecasts, By Users
                    7.4. Asia Pacific
                         7.4.1. Market estimates and forecasts
                         7.4.2. Market estimates and forecasts, By Type
                         7.4.3. Market estimates and forecasts, By Technique
                          7.4.4 Market estimates and forecasts, By Users
                         7.4.4. China 
                              7.4.4.1. Market estimates and forecasts
                              7.4.4.2. Market estimates and forecasts, By Type
                              7.4.4.3. Market estimates and forecasts, By Technique
                               7.4.4.4. Market estimates and forecasts, By Users
                         7.4.5. India 
                              7.4.5.1. Market estimates and forecasts
                              7.4.5.2. Market estimates and forecasts, By Type
                              7.4.5.3. Market estimates and forecasts, By Technique
                               7.4.5.4. Market estimates and forecasts, By Users
                         7.4.6. Japan 
                              7.4.6.1. Market estimates and forecasts
                              7.4.6.2. Market estimates and forecasts, By Type
                              7.4.6.3. Market estimates and forecasts, By Technique
                              7.4.6.4. Market estimates and forecasts, By Users
                         7.4.7. Singapore 
                              7.4.7.1. Market estimates and forecasts
                              7.4.7.2. Market estimates and forecasts, By Type
                              7.4.7.3. Market estimates and forecasts, By Technique
                              7.4.7.4. Market estimates and forecasts, By Users
                    7.5. Latin America
                         7.5.1. Market estimates and forecasts
                         7.5.2. Market estimates and forecasts, By Type
                         7.5.3. Market estimates and forecasts, By Technique
                        7.5.4 Market estimates and forecasts, By Users
                         7.5.5. Brazil
                              7.5.5.1. Market estimates and forecasts
                               7.5.5.2. Market estimates and forecasts, By Type
                              7.5.5.3. Market estimates and forecasts, By Technique
                              7.5.5.4. Market estimates and forecasts, By Users
                         7.6.5. Mexico
                              7.6.5.1. Market estimates and forecasts
                              7.6.5.2. Market estimates and forecasts, By Type
                              7.6.5.3. Market estimates and forecasts, By Technique
                             7.6.5.4. Market estimates and forecasts, By Users      
                    7.7. Middle East & Africa
                         7.7.1. Market estimates and forecasts
                         7.7.2. Market estimates and forecasts, By Type
                         7.7.3. Market estimates and forecasts, By Technique
                         7.7.4. Market estimates and forecasts, By Users
Chapter 8. Competitive Landscape
                    8.1. Abbott Laboratories
                         8.1.1. Company overview
                         8.1.2. Financial performance
                         8.1.3. Product benchmarking
                         8.1.4. Recent developments
                    8.2. Beckman Coulter Inc.   
                         8.2.1. Company overview
                         8.2.2. Financial performance
                         8.2.3. Product benchmarking
                         8.2.4. Recent developments
                    8.3. Biomérieux SA
                         8.3.1. Company overview
                         8.3.2. Financial performance
                         8.3.3. Product benchmarking
                         8.3.4. Recent developments
                    8.4. Grifols SA
                         8.4.1. Company overview
                         8.4.2. Financial performance
                         8.4.3. Product benchmarking
                         8.4.4. Recent developments 
                    8.5. Johnson & Johnson
                         8.5.1. Company overview
                         8.5.2. Financial performance
                         8.5.3. Product benchmarking
                         8.5.4. Recent developments
                    8.6Siemens AG
                         8.6.1. Company overview
                         8.6.2. Financial performance
                         8.6.3. Product benchmarking
                         8.6.4. Recent developments
                    8.7 Qiagen Netherlands (includes Digene)
                         8.7.1. Company overview
                         8.7.2. Financial performance
                         8.7.3. Product benchmarking
                         8.7.4. Recent developments
                    8.8. Danaher Corporation (Beckman Coulter) Lab 21
                         8.8.1. Company overview
                         8.8.2. Financial performance
                         8.8.3. Product benchmarking
                         8.8.4. Recent developments
                  8.9. F. Hoffmann-La Roche AG   
                         8.9.1. Company overview
                         8.9.2. Financial performance
                         8.9.3. Product benchmarking
                         8.9.4. Recent developments
                 8.10. Becton, Dickinson and Company                 
                         8.10.1. Company overview
                         8.10.2. Financial performance
                         8.10.3. Product benchmarking
                         8.10.4. Recent developments